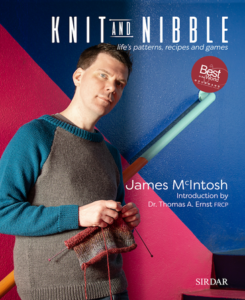 Knit and Nibble on Tour
It's all a bit hush hush for now. However, we promise you a fun event and different from our normal talks.

Join us for for a buffet in Whitehead for a chance to nibble, while you're knitting or crocheting!

Dr Ernst and James will be entertaining the masses about the story behind Knit and Nibble and how one stitch at a time helped James to knit myself back together after depression while Dr Ernst had to overcome the transformation of his home from quiet flat to a yarn store!
Buffet Lunch in Whitehead Railway Muesum 12pm – 2pm
or
Evening Buffet in The Bank House 6:30pm – 8.30pm 
Tickets £20 include buffet and talk
​